There are so many interior design blogs around that it can be quite overwhelming when it comes to looking for inspiration. At Creatively different, we have a soft spot for colour, pattern and eccentricity in design (2 minutes on the website and that's plain to see!).
We've picked out some of our favourite bloggers and interior designers who have a quirky sense of style and a keen eye for colour and pattern. These interior experts are not shy about mixing things up so if eclectic design and bold accessories are your thing, you'll love these blogs!
A very interesting blog by journalists Ros and Jill; with over 12 years of experience in the interiors and design industry, these two are true pros. If we're not convincing enough, their blog and resume including writing and editing credits for The Guardian, The Independent, Elle Online, Grand Designs, Cath Kidston and more, should be!
Browse their blog for the latest trends, artists, design influences and thoughts on social and cultural topics. One of our favourites is Get the Look: Neneh Cherry. That wall mural! Fantastic!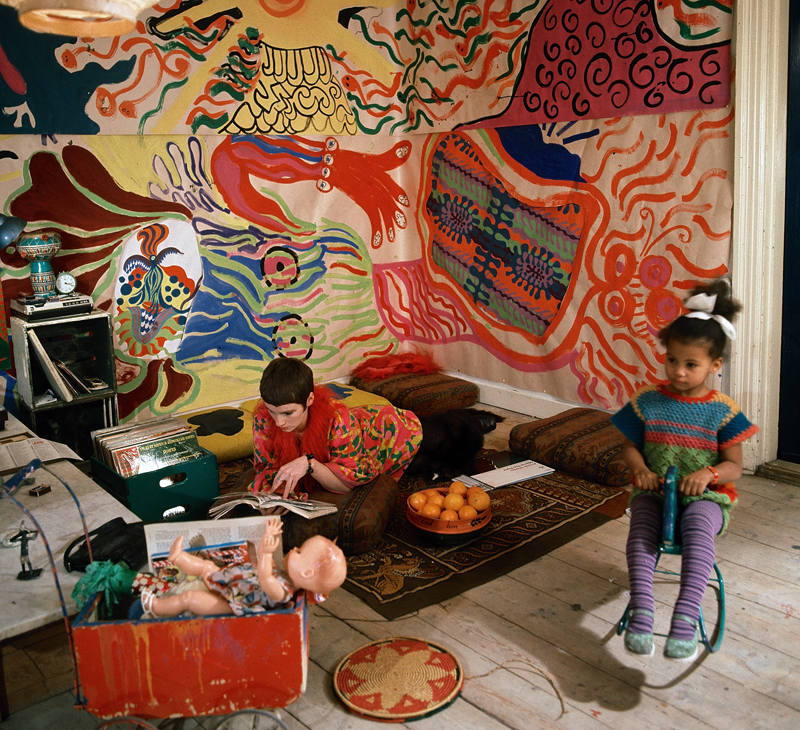 We were lucky enough to get a comment from Jill and Ros, here's what they had to say about their blog and work:
"We started the blog in 2009 as a place to write about interior design in a more spontaneous and humorous way. We're inspired by all sorts of things – art, culture, unusual interiors we stumble upon, colour combinations seen on our travels. Advice for people embarking on a project is to not rush it for the sake of getting in done – it's good to live with your home for a bit and with your ideas, to work out if they are just a passing fancy or more meaningfully, something that will work in the long term. That said, there is a lot to be said for a bit of bravery and going for it – especially when it comes to painting, which you can easily change again."
The lovely Claire, owner of Heart Handmade, started the blogging after becoming inspired during an illness. Her love of creating and making lead her to sharing her amazing projects online and her blog grew to be incredibly popular!
It's Claire's love of beautiful colours, florals and patterned crafts and accessories that drew us to her. She loves to DIY and is influenced by soft, pretty, vintage styles that are still beautifully quirky and colourful.
Her work has been featured in various magazines and you can check out her blog for simple yet eye catching DIY projects and her favourite home designs. We love this post on an outdoor entertaining area; perfect for those summer nights!
Amber Lewis is the driving force behind Amber Interior Design. Based in LA, her style has all of the sophistication you would expect, with beautiful and quirky accessories that manage to bring together and complete her designs.
Having an "inherent knack for mixing bold patterns and combining colours" we were instantly in love with Amber's blog. Having been featured on the likes of Elle Décor and HGTV Magazine, she is recognised for her unique style and beautiful interiors.
We LOVE this before and after of an entire home. Cushions, cushions sooo many beautiful cushions. And those antlers? Stunning! You can find out more about the antlers here but don't forget to check out the whole before and after post.
Okay, I think we need to get some beautiful, colourful, patterned cushions over here at CD headquarters because that's exactly what catches my eye on every blog I visit!
Bloesem is the blog of Irene Hoofs from Amsterdam. She now lives in Singapore with her family uses the blog to share her design ideas on interiors, handmade and vintage loves and lifestyle. As a graphic designer she has a keen eye for aesthetics and we are LOVING her eye for colour.
Browsing through her inspirations and ideas you'll notice lots of pastels and soft colours which all work so well together and her love of vintage brings in some quirky accessories and interesting patterns. We particularly liked this post on Pajaki chandelier making, how great are they?!
Do we need to explain why we like this blog? Really? With a tagline of "Quintessentially Colourful" it's pretty easy to understand! Bright Bazaar comes straight from the mind and hard work of Will Taylor, a UK journalist with a passion for colour!
Hooked on interiors since the age of 12, Will documents his amazing finds, incredible style and latest inspirations. You can find all sorts on his blog from home accessories and interiors to lifestyle and entertaining.
Take a look at Will's old apartment and its incredible design and you'll see why we love it. A mixture of fun prints and patterns all brought together so seamlessly by an incredible colour scheme.
What are you favourite quirky interior designers/bloggers? If we've missed out your favourite let us know!